Magic Toggle is a handheld game on Spineworld that came out in August 2009. It should not get confused with
Magic Toggle (World Game)
. All you have to do is get the most markers on the board.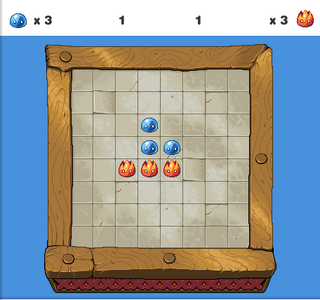 1. Both players start with two markers on the board.
2. Each turn you try to place one more marker on the board by clicking on an empty square. This must connect a line to one of your other markers and cover your opponent's markers. Lines can be horizontal, vertical or *diagonal.
3. This switches his markers to your color and you score points!
4. If you can't connect a line, you are blocked and have to pass your turn.
5. The game is over when the board is filled. If both players are blocked, the game is also over. The player with the most markers gets their score multiplied x2 and wins!
Multiplayer
Edit
For the first time, Magic Toggle is also a multiplayer game. Just click on the multiplayer button and a window will be over your head for other players to see if they want to play.
Win: 30 Gold
Lose: 20 Gold